Qual­i­fi­ca­tions
Advanced Diplo­ma in Inte­gra­tive Coun­selling (2013 — 2017) — Iron Mill Col­lege, Exeter.
Cer­tifi­cate in Coun­selling (2013) — Iron Mill Col­lege, Exeter.
I am a Reg­is­tered Mem­ber of the BACP and work with­in their eth­i­cal frame­work for the coun­selling pro­fes­sion. You can check this at any time at www.bacpregister.co.uk
Below is the BACP reg­is­tra­tion logo con­tain­ing my unique reg­is­tra­tion num­ber.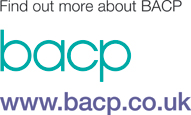 Expe­ri­ence
My areas of coun­selling expe­ri­ence include anx­i­ety, bereave­ment, depres­sion, health anx­i­ety, preg­nan­cy, rela­tion­ship dif­fi­cul­ties, self-con­fi­dence, self-esteem and work-relat­ed stress, among oth­ers.
I have spe­cial­ist expe­ri­ence in pro­vid­ing bereave­ment sup­port.
Con­tin­u­ing Pro­fes­sion­al Devel­op­ment
'Coun­selling con­fi­den­tial­i­ty, data pro­tec­tion and access to records' (2014).
'Reflec­tions on the Encounter between Ther­a­pist and Client' (2014).